Giving back to our communities is one of the most fulfilling aspects of our careers. By creating awareness about the positive impact the arts have on the emotional, mental and social development of youth, Life By Music can change the world.
"Life By Music" started as a motto – something we'd say as we chased our dreams of becoming professional recording artists. As we achieved those dreams, we quickly realized we wanted to do more with our music than just 'be in the music industry.'
We knew sharing our passion with those in need was the only way to survive the bumpy ride of the music industry. We wanted our art to do some good for humanity, so we devised a plan – to work with the youth & to show them how powerful music & the arts are in this life.
Growing up, music was a superpower for us. We worked on it everyday & music quickly became an integral part of our lives. Because of music, my brother & I have toured the country, played in front of thousands, connected with amazing people & signed numerous record deals.
Learning & having music available at a young age gave us the ability to turn what we love into our careers. We want to help ensure more kids get that opportunity.
So… In 2016, before an acoustic show in Club Madrid at Sunset Station, we hosted 12 kids from a nearby Boys & Girls Club. We created a fun & safe experience, where they could come & learn some music, draw & paint colored guitars, walk around our stage area & then go eat at the buffet.
The kids got a feel for what being a musician is like & they had a very memorable experience.
And, just like that, Life By Music went from being just a saying, to a full blown 501c3 non profit organization.
As we started visiting more schools & youth centers – we wanted to create something to give the kids that included things like; how to communicate music, the exhilaration of chasing your dreams, expressing yourself & being a strong, caring human being.
This is how Guitar Magic was born. Our first official program for kids in kindergarten through 3rd grade.
With the help of two of 2 of my best friends, Nick & Justin Giordano, & my girlfriend, Jessi Rose, we created a music chord & coloring book. Each note is taught with a positive virtue & a cool animal.
The Guitar Magic characters were born!
Attitude Alligator
Bravery Bear
Compassionate Cow
Discipline duck
Equality Elephant
Friendship Frog
Gratitude Gorilla
As of today, we've given Guitar Magic Experiences to over 300 kids all over the country.
Canyon Elementary – Salt Lake City, UT
John & Judy Goolsby Elementary – Las Vegas, NV
Robert E. Lake Elementary – Las Vegas, NV
Kitty Ward Elementary – Las Vegas, NV
LIED Stem Academy – Las Vegas, NV
Boys & Girls Club of Southern Nevada – Las Vegas, NV
St. Cornelius School – Long Beach, CA
Lake View Elementary – Lakeside, CA
Dreaming Tree Daycare – Oswego, NY
Adam's Place of Nevada – Las Vegas, NV
How do we reach more kids?
Where are music & the arts missing?
How do we get instruments into more people's hands?
How do we get them excited to express themselves through music?
As I sought out answers to these questions, I connected with an amazing non profit here in Vegas, Adam's Place.
Adam's Place is an organization that supports children, teens & families experiencing loss. They go into schools & work with kids that have gone through trauma & death. Life By Music has been able to partner with them for several events.
We have plans to help them build out their MusicU program. A fun & empowering curriculum that uses music as a tool to help kids cope through the grieving process. We will also create a complimentary training program for counselors, teachers, parents & volunteers; educating them on how to utilize music education in their own curriculums.
With the help of Gibson Gives, we've been able to donate 120 guitars to schools in Las Vegas, Los Angeles & New York.
Last year, we donated & hand-delivered guitars to each of these Middle & High School music programs in the valley:
Sunrise High School
Bonanza High School
Cimarron High School
Mojave High School
Sandy Valley High School
Basic High School
Green Valley High School
Desert Oasis High School
Molasky Middle School
Hyde Park Elementary
Virgin Valley Elementary
A major part of the LBM initiative is using music as a catalyst to create synergistic moments between humans.
Every year, leading up to our Hometown Holiday Throwdown rock shows, we host toy drives with STRUCTURE EXHIBITS. We collect & deliver the toys to St. Jude's Ranch in Boulder City & the Boys & Girls Club of SV before Christmas.
We strive to work with local businesses around the holidays to bring cheer & toys to those in need.
Music brings us together & I know we can all agree that kids could use more opportunities to experience music & the arts in their lives.
LBM will continue to host toy drives & other events that spread the empowering elements of music to kids, teens & those in need.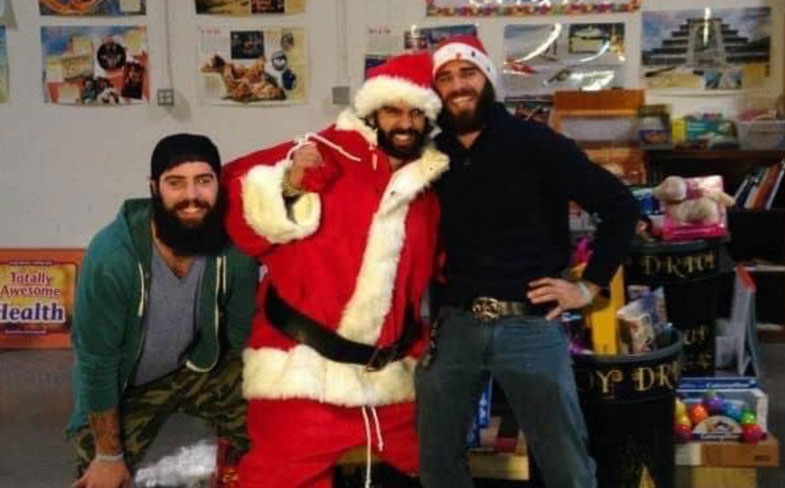 During the pandemic, I taught an Intro to Rockin' Guitar course online, for teens, at Mission High School.
This year, I was able to teach our Intro to Rockin' Guitar in-person.
Mission HS is a secondary school designed for students in recovery from substance abuse, use and/or dependency.
My bandmates & I visited the school once a week for 6-weeks. We donated the guitars to the school & worked one-on-one with the teens that excelled in the course.
As first-generation Americans, we were raised to respect & cherish the freedoms of this country. My brother & I have always had a deep yearning to stand up for what we believe in & to fight the good fight.
While on tour, we have met many veterans & even had the honor of performing at several military bases – 29 Palms, Nellis Air Force, Fort Carson.
We are excited to announce our partnership with Guitars for Vets. We are currently developing an intro to guitar songwriting course for veterans. We are also reaching out to veterans programs & veteran-owned companies across the country.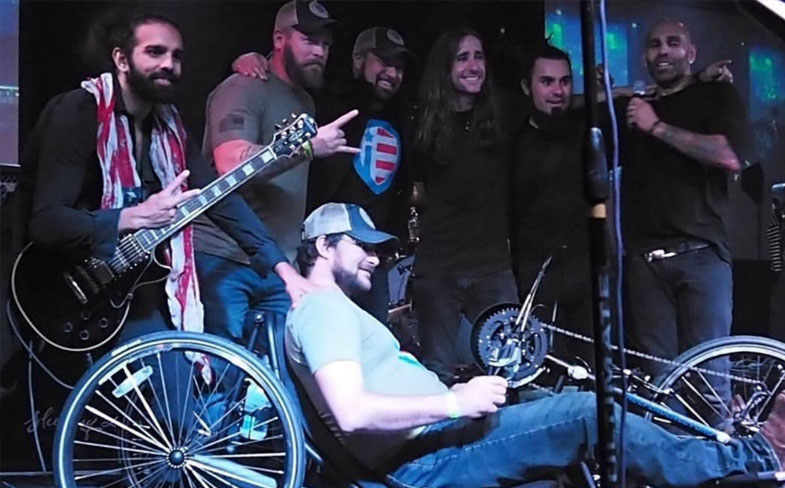 #1 More instrument donations.
#2 Traveling to more schools, youth & veterans programs across America.
#3 Online courses to complement our Guitar Magic & Rockin' Guitar programs & to expand our reach. After we visit the schools – kids, teachers & parents can continue the experience with fun & easy follow-along videos that work with the booklet.
#4 Partnering with other foundations like; Guitars for Vets, Adams Place, Gibson Gives, The Grammy Museum Foundation & more.
#5 Sharing our first-hand experiences as recording artists & professional musicians through – LBM Sessions – a program designed to teach recording, songwriting & music business.
#6 Hire & train more artists to spread our music education experiences. There are so many talented artists out there who want to give back by sharing what they love. Both the artists & the kids, teens & veterans they work with will get to receive the healing benefits of living a Life By Music.
#7 Putting on fundraisers with & for other causes. Help to fundraise for more organizations & make a bigger impact. Bring music to local communities.
#8 Building a state-of-the-art recording space. A safe place for kids to experience what it's like to be a recording artist & musician. A positive environment for artists to learn, create & collaborate.
Giving back to our communities is one of the most fulfilling aspects of our careers. By creating awareness about the positive impact the arts have on the emotional, mental and social development of youth, Life By Music can change the world.